Kennel Normanner first appeared in 1974.
Called for a shepherd dog who possessed the qualities we wanted should be the trademark of the dogs that were to be bred in the kennel.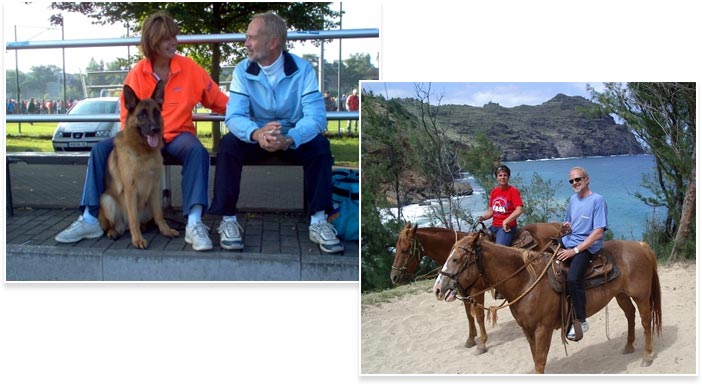 Dogs that are first and foremost known to be a valued member of the family - possessing the qualities that allow owners to cultivate all the interests associated with owning this lovely breed dog: exhibitions, trials, agility and all the other offers special club "German Shepherds for Denmark" offers its members.
We do not boast to be Denmark's largest kennel We do not breed many puppies, but we aim to give our puppies the best possible start - and the new owners the guidance needed to make their dreams come true. Many puppies have both given our puppy buyers and our great joy over the years. Both as family dogs and as high performance exhibition dogs and working dogs.
Norman Anastasja achieved a second place in Denmark's championship championships in BHP1 to be placed in the most distinguished breeding class in Denmark - soon after many years, but never forget all the wonderful experiences we had with her before she could not manage the competitions anymore - and ended her days like an old and worthy dog ​​who had a wonderful dog life - and could sleep in with lots of experiences. Her sister Atrice was also a complete dog, who became the mother of many puppies, who gave their owners many pleasures. She was the best when she lay with her puppies and made sure they were taken care of.
She also had a worthy dog ​​life and gave us many pleasures. Many other dogs have passed out of kennel - and of course they have their own story, but the most important thing for us is that healthy puppies are bred and bred on kennel Normanner - and that our puppy buyers feel well treated.
We can only make sure that German Shepherds - and work with German Shepherds - is our hobby. We can not live on it - but we can not live without.
It will also be for many trips abroad over a year. Both when we have found the very best male for a couple and or when we go to events - where we also meet with many lovely German Shepherds friends.
So if you have wanted to become a German Shepherds, you are always welcome to contact us either on the phone or via our e-mail address: - who knows: maybe we have the puppy that suits you.
.